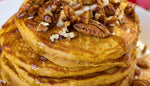 October is undoubtedly "pumpkin time" and its hard to walk a 1 km radius without bumping up against a pumpkin spice latte or the imagery of one. However, that didn't stop The CANADIAN BIRCH COMPANY from getting on the pumpkin spice train to launch its newest product all the way to Pancake Town!
Birch for Breakfast, is a sweetened version of our pure Gold Birch Syrup crafted specifically to go with, in or on whole foods and recipes that call for a little more sweet with all the rich flavor of Birch. And to celebrate the season of this launch we pay homage to the king of comfort food with a time limited Pumpkin Spice edition! 
We have met with literally thousands of customers at food and handmade shows all across Canada and have listened. There is a specific palette out there that requires a mellowed version of Birch in a ready to serve context. We held steadfast for years on the point that our Birch Syrup would remain pure and natural but too many of you asked for an alternative and we couldn't ignore this important market segment any longer.
At the same time we refused to compromise our high standards of using quality gluten free ingredients in all our products and maintaining our commitment to never add preservatives. We are especially proud that we have crafted Birch for Breakfast without the use of unhealthy high fructose corn syrup which is abundant in the breakfast and table syrup market today. To please our customers and keep our commitments to quality and good health is a WIN-WIN!
We still make and sell our traditional pure Birch Syrup, but our product line just became more widely accessible with the introduction of Birch for Breakfast. ENJOY and THANK YOU for your feedback! Check out our Birch Food Pairings  for yummy ways to enjoy Birch for Breakfast!