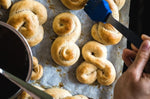 You may be surprised to learn that all of our pure Birch Syrups are naturally gluten free AND that the rest of our Birch flavored products are made with gluten free ingredients. This means that Birch Bacon Jam, Birch Whiskey Toffee Sauce and Birch Q Sauce can all be enjoyed by those with gluten intolerance! This is great news for those who have trouble finding great tasting products in the health food aisles especially if you are looking for items made with ingredients you can pronounce with no added preservatives!
It just so happens that Glenda & Rory Hart, The CANADIAN BIRCH COMPANY founders learned one thing early on in their marriage. Their illnesses, rashes and digestive issues were not an adverse reaction to being married to one another!!
Many years ago now both Glenda & Rory were diagnosed with Celiac's Disease, where both are acutely allergic to gluten. Well, strength in numbers! At least this meant that they could practice one set of dietary guidelines in their household. Later on, entering the food industry, meant lots of taste testing of new products and everything had to be gluten free* or risk the nasty fallout. As they developed their gourmet birch collections they sourced ingredients that were gluten free* and continue this practice today. 
For the gluten intolerant, and those who have chosen a vegan lifestyle there are limited choices for non processed foods. This is where pure Birch Syrup can be a great cooking companion. Not only is it naturally gluten free and vegan, it is a very versatile cooking tool and also high in calcium. It can be used in a multitude of ways to enhance almost any kind of dish.
Use Gold Birch Syrup as a natural low-cal, low carb sweetener in gluten free breakfast cereals, muffins, scones, pancakes and waffles. Also great with smoothies, creamy beverages, yogurt, fruit and yep, cocktails!
Create dressings, marinades and cooking sauces with Amber Birch Syrup mixed with your favorite spices and vinegars
Often referred to as "nature's barbeque sauce", Amber Birch Syrup is an excellent grilling companion for meats and veggies that you can use to marinade beforehand or brush on during the cooking process. Amber is flavorful enough on its own or you can add your favorite spices and flavorings.
Try a gluten free old time favorite from our recipe blog: Birch Creme Caramel
Glenda & Rory are celiac and understand your desire to be sure about ingredients. We encourage you to contact us with any questions about our nutrition labels.
*All Canadian Birch Company products contain gluten free ingredients, although please note their manufacturing facility is not officially certified as gluten free. See our Nutrition & Allergy Information page for details.