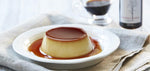 Besides chocolate, caramel is the most universally loved flavor the world over
Some dessert classics are constantly in the mainstream for a reason and this couldn't be more true of crème caramel. How often have you dined out and noticed this French dessert on the menu?  The sheer plethora of crème caramel recipes is astounding, but what can be done to make yours stand out above the rest? When it comes to adding flavor intensity and dimension to caramel dishes, Birch Syrup shines.
Think of Birch Syrup as having a caramel and toffee-like base with a tangy fruitiness layered on top. With this in mind it is not hard to imagine why Birch is such a great compliment to desserts. Anything that goes well with caramel generally goes very well with Birch...think chocolate, fruit, berries, cake, pastries and the list goes on.
Birch can bring out the caramel or the tangy fruitiness in any dish. Go ahead and experiment with it. It is just a matter of getting to know Birch a little better. The CANADIAN BIRCH COMPANY's Flavor Tour is a great way to get to familiar with the possibilities before you dive in. Or just dive in! Whatever you do, let us know about your creations. We welcome comments on this or our other Birch Bloggin' pages.
In contrast to caramel recipes, there aren't many Birch Syrup recipes out there, but we are striving to change that! And it really isn't hard to showcase the culinary virtues of what we know to be a highly versatile and delicious food staple. Dark Birch Syrup is not going to add much sweetness so you can control the level of sweetness quite easily but it is going to add great flavor and rich gorgeous color to your Crème Caramel! Depending on the weather and natural elements, The CANADIAN BIRCH COMPANY may not yield Dark Birch Syrup and could be sold out from time to time, but don't despair, Amber Birch Syrup works very well in this recipe too and Amber is more plentiful from year to year. Get yours today! Birch Syrup Crème Caramel
Dark Birch Creme Caramel

Preheat: 325 F

Serves: 6

Prep Time: 30 min

 Caramel

2/3 cup sugar

1/3 cup water

 

 

 

Place sugar and water in a medium saucepan and stir to dissolve. Over medium-high heat, swirl pot gently until it turns a dark, fragrant liquid caramel.

Working quickly, pour caramel into 6 x 4oz ramekins. While hot, swirl to coat bottom of ramekins evenly, set aside.

Custard

 

2 cups milk

½ cup sugar

3 eggs

3 egg yolks

1 tsp vanilla

2 tsp The Canadian Birch Company Dark Birch Syrup (Use Amber for a lighter taste.)

Pour milk into the same saucepan and bring to boil. Remove from heat and set aside.

Meanwhile, in a medium size bowl, beat eggs, egg yolks and sugar together until well blended and frothy. Add vanilla and The Canadian Birch Company Birch Syrup.

Whisk heated milk into the egg mixture.

Pour custard over the hardened caramel in each ramekin and place each ramekin into a large baking dish or roasting pan. Place roasting pan in pre-heated oven. Pour boiling water into the pan to come halfway up the sides of each ramekin.

Bake until set, 45 min – 1 hour.