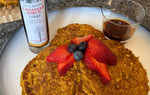 October is undoubtedly "pumpkin time"
It would be easy to think that Pumpkin Spice Lattes are the reason for the season. Alas, they are not! But they are a wonderfully enjoyable comfort food, made all the more delicious with a spike of Birch table syrup.
Pumpkins are harvested in October and are seasonal produce at the beginning of October, gain peak momentum at Canadian Thanksgiving and carry on through American Thanksgiving. Or available in a can at anytime. They are plentiful, accessible and easy to work with in the kitchen.
So is pumpkin a vegetable or a fruit? The overwhelming consensus is that it is indeed a fruit. Although in culinary terms, pumpkin can lien toward both savory and sweet dishes, and is used in recipes from pasta and curries to baked goods and desserts. And adding "pumpkin spice" is just a delicious bonus. 
So what is pumpkin spice and why is it a thing? Basically, it is a special mixture of specific individual spices, and is specifically not specific at all. There are as many versions of it as there are pumpkins in that gigantic crate at the store. As far as I can tell "pumpkin spice" can be best classified as a concept...a feeling of warmth...a gateway to the renewal of seasonal change and wooly socks. I have come to this conclusion because there seems to be no consensus at all about what spice combination makes the quintessential pumpkin spice. There are various formulas that can include any combination, proportion or inclusion of the following spices:
Cinnamon
Nutmeg
Ginger
Allspice
Cloves
Mace
Cardamom
These are what we call traditional baking spices and the proportion of these can swing the overall taste of pumpkin spice dramatically. Personally, I like just a hint of cloves and can tell instantly when a store bought item has used it generously. Not my taste but to someone else, it's likely heaven. So with wildly different out-of-the-box versions out there, it is actually a perfect DIY so you can have a pumpkin spice that suits your unique taste. It couldn't be easier to do and you likely have these spices in your pantry anyway. The best bet is to use what you love, decide which of these spices you would like to be dominant and be liberal with it. Most of these spices are potent so use small amounts until you get the right combination. 
How do you taste test your pumpkin spice formula without inhaling a spoonful of dry spices? Steam a cup of milk in the microwave, pour a few table spoons into a glass and mix in a 1/4 tsp of spice mix. This will give you the general idea of taste before you go to the effort of trying it in a recipe or making a large amount of it. Keep a notepad nearby to keep track of spice combinations and proportions.
Have fun and use your signature pumpkin spice in our recipe for Pumpkin Pancakes! 
Here is our healthy twist on the traditional pancake. This is a wholesome version with pumpkin and oats packed with 2 full servings of fruit plus fibre per serving as well as protein from almond milk.
And what goes extremely well with pumpkin, almonds and oats? Pure Birch Syrup! It adds a touch of natural sweetness and Carmel flavor with a low calorie count because you don't need very much. Birch syrup is a great source of calcium as well. 
Put The CANADIAN BIRCH COMPANY Gold Birch Syrup in or on these cakes!
Pumpkin Pancakes with Birch Syrup

Gluten Friendly Modifications

To make this recipe gluten friendly, be sure to use Gluten Free Oats, Gluten Free Baking Powder and use Gluten Free all purpose flour instead of wheat flour.

Preheat griddle: High heat 

Servings: 4

Prep Time: 10 minutes

Add your go-to fat and grease up the pan to avoid sticking. Cooking spray or 2 Tsp. of Coconut Oil are good healthy alternatives. 

Ingredients:

1 Cup of Pumpkin Puree

1/4 cup unsweetened Almond Milk

3 Large Egg Whites (or 2 eggs)

1 Tbsp Gold Birch Syrup

1 Tsp. Vanilla

1 Cup of Gluten Free Oats 

1/2 cup Organic Flour (Use gluten free flour for gluten friendly diets)

1/2 Tsp. of ground Cinnamon

1/4 Tsp Ground Ginger

1/4 Tsp. Ground Nutmeg

2 Tsp. Baking Powder (use Gluten Free baking powder for gluten free diets)

You can substitute your own pumpkin pie spice and omit the cinnamon, ginger and nutmeg.

Combine wet ingredients in a medium bowl. Combine dry ingredients in another bowl mix thoroughly and then add to wet ingredients.
Mix batter until just combined. Drop 1/4 cup cup of batter in the pan for each cake. Flip when bubbles form on surface of the batter. 
Serve with butter and a top up with Canadian Birch Company Birch for Breakfast syrup or pure Gold Birch Syrup if you like it a little less sweet.
Pairings
Adding fruit on top. Strawberries, blueberries or raspberries are a great compliment with the syrup.
Cooking Tip
It's ok if there are some lumps in your batter. Over-mixing until very smooth will make the cakes rubbery! My mamma taught me that one!! And she was the best cook on the planet...next to your mother, of course!  
Enjoy!!