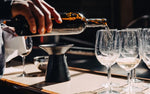 Birch sap is used to make wine, but we won't be discussing that here. Our business is focused entirely on converting our organic birch sap into Birch Syrup products. You may be surprised to learn that there are many similarities between Birch Syrup and wine in terms of flavor profiling. 
However, similar to the world of fine wines, each year's yield or "vintage" of Birch Syrup can have slightly or widely contrasting flavors from one year to the next, within the general profile range.  Flavor and sugar content of birch sap is dependent each year on weather patterns, sunlight and soil conditions which are difficult to predict and impossible to control in our natural forest. It is because of this that we often say that crafting Birch Syrup is as much an art as it is a science, with a little luck thrown in as well.
There are over 10,000 varieties of wine grapes worldwide which produce vastly differentiated wines and which is are responsible for the wide choice of wines available today. There are 16 different varieties of birch trees in North America and just as a Merlot is vastly different from a Chardonnay, the syrups produced from different Birch species are also vastly different. The CANADIAN BIRCH COMPANY syrup is  a product of the White Paper Birch. The result is a caramel fruity product that is very different from Yellow Birch which produces a licorice like flavored syrup, which is again different from the Silver Birch and so on.
Flavor and sweetness also varies widely between producers and is dependent on geographical location, environmental factors, manufacturing equipment & techniques and the skill & experience of the craftsmen and craftswomen. The CANADIAN BIRCH COMPANY is especially proud of its high quality manufacturing process and capability to produce premium Gold Birch Syrup which is rare in the birch syrup world. Like a fine premium wine, Gold Birch Syrup is highly sought after due to its level of sweetness and smooth fruity flavor with notes of toffee & brown sugar. Interestingly, our forest is intermixed with wild plums, high bush cranberries, chokecherries and wild raspberries, forming a symbiotic relationship to our syrup's fruity flavor profile. Most of our customers who have tried darker Birch Syrups from other producers are quite surprised at the depth of flavor and sweetness of all grades of The CANADIAN BIRCH COMPANY's syrup.
It could be our forest's proximity to an inland ocean or the prowess of our craftswoman but to those who tell us that they have tried Birch Syrup before, our reply is and will always be, "Well, you haven't tried ours!".