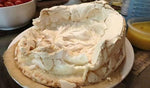 The key to finding authentic recipes online
Have you tried recipes you found online that were less than successful? And you wonder how on earth the author made theirs to look like the accompanying mouthwatering photo? Selecting good quality recipes online may seem elusive especially if you have had a few fall flat but it doesn't have to happen again if you have a couple of tricks up your oven mitt.
As with anything you find online some sources are authentic and some seem to be promotional cyber factories cranking out unproven and inauthentic content. Online recipes are no exception. Being authentic takes time, nurturing, education, resources and plain hard work. It is no wonder why so many take short cuts, however short sighted the approach. Get burned once, no pun intended, and you won't go back to that source, but in the meantime  you have wasted a precious Saturday afternoon, not to mentioned having burned through expensive ingredients (again, no pun intended!)
While I still use my favorite "offline" cookbooks, I predominantly go online to source new recipes. It is convenient, highly visual and somehow much less clinical that scouring through a text book style cookbook with fewer pictures than recipes. Nothing gets my creative juices flowing like a good Pinterest session!
No doubt you have found your own favorite places to hunt for new dish ideas like Pinterest, Youtube, Recipe apps like Yummly and Allrecipes.com, and various blogs like ours. No matter the source, it pays to be on the lookout for indicators of recipes that may not deliver what they promised.
Based on personal experience, and many failures and successes, I've gathered some tricks of my own. In this blog I share my process for finding workable recipes online that can save you from wasting time and trouble. There is nothing worse than the embarrassment of having friends for dinner and trying a new recipe only to have it fail. And really, who has the time to do a practice run these days? Let's try one and done!
Photos are deceiving: Don't judge a recipe by its photo. I am as visually influenced as anyone and a poorly lit food photo can turn me off instantly, however some of the most delicious recipes I have found have been from posts with poor and unappetizing photos. Conversely, I have had some real losers from photos that look like they came out of a magazine. Anyone can source lovely professional food photos and post them with a recipe they made up on the fly. There is no guarantee that the person posting that gorgeous picture has put that recipe to the test. Unfortunately in those cases we are the victims! Whereas, a life-long cook who is simply interested in sharing a recipe with online friends is more likely to have actually tried it and provide an honest review.  Also, it takes a great deal of skill to take a professional level food photo. Not only do you have to have a great camera but you need to be skilled with photo editing software. I have recently been trudging up this learning curve and know firsthand that it is not easy. So what do we learn from this? If the name of the recipe intrigues you, don't let the photo distract you from executing step #2.
Scan the ingredients list: Do the proportions of ingredients look typical? For example, in baking I always look at the proportion of dry/flour to liquid ingredients as typically they fall within a pretty consistent range for most classifications of recipes. I.e. cookies, cakes, muffins. Another example is soup. If there is broth and veggies but no seasonings other than salt, I won't touch it unless I feel I can wing it with my own seasonings enough to save it. If an ingredient portion looks out of wack, don't assume that the method is going to make up for it. You are likely right and best to move on.
Photo & ingredients should jive: Is there something about the ingredients that just doesn't quite seem to compare with the photo? I've seen this countless times and immediately I distrust the source. For example, recently I was looking at a healthy pancake recipe. The ingredients used oats instead of flour but the photo was clearly of pancakes that were made with some kind of flour. Their surface was smooth and texture fluffy white whereas oatmeal should give them a mottled appearance much like an oatmeal cookie and the color inside would not be bright white. I ignored the nagging voice in my brain and decided to go full steam ahead anyway. Sure enough, they were a complete flop, stuck to pan like an angry badger and I had to add a bunch of fattening oil to correct the problem. So much for my healthy breakfast! So if you find a dessert photo showing chocolate ganache adorning the top and no indication of chocolate listed in the ingredients, move on! It's inauthentic and not worth the risk.
Vague method wording: A dash of this or smidge of that introduces guesswork. I've even seen recipes with the ingredients listed but no measurements! We do not have time for that! We have busy productive lives! A recipe is supposed to be prescriptive and instructional so that its maker can achieve success. Don't waste your time on these.
Ratings: If you are using an app where there is a star rating system definitely consult the reviews. Ratings are generally a great guide if there are enough of them contributing to the average. A 4 out of 5 star rating is generally great but if that is coming from only two reviews, I will read the comments to make sure. If no comments, I will likely pass on these.
Comparison: Lastly, when I think I've found a good recipe, I will search for two more similar ones and compare the ingredients and measurements to the initial one I selected. There will always be some variations but in making the comparison you can see if the one you chose seems to be vastly different in some way to the others or are there more similarities? You are looking for a general consensus on how this dish is generally made. Throw out the outlier recipes and stick to the ones that have a lot in common. Variations in spices and flavorings will not really have an impact on the structure of the dish just the flavor so don't be overly concerned about that aspect. Often times, you may discover ways to improve your preferred recipe by adding an extra seasoning that another recipe had included.
There is no such thing as a perfect recipe and it is seldom that I don't end up making some modification to suit my tastes. This approach may work for some and for others this will be out of your comfort zone. In any case, following the steps above can help to reduce the flops resulting in the fantastic. 
In our birch recipe blog, because we include our own products in our recipes, you can rest assured that they have all been tried in our own kitchen and we loved them enough to share them. We take all of our own recipe photos as well so you can rely on the fact that what you see is indeed the authentic result of the recipes we post here. We are still chugging up that photo learning curve as I mentioned before and hopefully we will produce better photos over time. There will always be variations of outcome as our oven may not cook exactly the same as yours etc. but we try our best to provide you with accurate information and useful cooking tips that will result in you loving our products in your own kitchen!
What tricks do you use to find high quality online recipes? Leave us a comment.