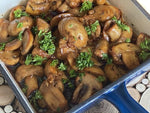 Delicious warm side dish for roast, grilled steak, and vegan mains
Or serve cold as an appetizer with charcuterie and cheese boards or add to a salad. Birch Syrup is a versatile cooking tool to have handy in the kitchen. It's sweet balsamic taste profile adds great flavor to roasted veggies of all kinds and here, with mushrooms, fresh garlic, and thyme is saucy & soooooo good! Not to mention incredibly easy...prep time is 5 minutes!
This recipe is gluten friendly and vegan. 
Bon Appetit!
Preheat oven to 400 F. 

Birch Roasted Mushrooms

Preheat: 400 F

Serves: 4

Prep Time: 5 minutes

Ingredients:

1 1/2 cups Button Mushrooms

1 Tbsp Olive Oil 

1/2 Tbsp Apple Cider Vinegar

1 Tbsp Amber Birch Syrup by The Canadian Birch Company 

1/2 tsp Dried Thyme (1 Tbsp of fresh is better)

1 Tbsp Fresh Parsley 

Thoroughly wash and halve the mushrooms, drain and pat dry. 

Place mushrooms into a medium sized bowl. Add olive oil, apple cider vinegar, Amber Birch Syrup, and thyme. Lightly toss until all ingredients are well combined taking care not to mash the mushrooms.

Pour prepared mushrooms and excess marinade into a small roasting pan and place into the oven for 20 minutes stirring half way through. 

Garnish with fresh chopped parsley