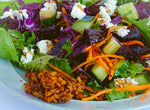 Add some gorgeous color to your November!
When we plated this salad, it just looked so darn cheerful it lifted our spirits and we had to share! The more color the better, nutrient speaking. Green, Orange, Yellow, Red & Purple veggies each have their own dominant nutrients so the more colors there are on your plate the better the variety of nutrients.
All of our pure Birch Syrups are also a great source of Calcium coming in at 33% of daily value per serving of this salad. There are a couple of components to this salad where the beets, nuts, and dressing are convenient make-aheads that don't need close tending and can easily be done during an evening Netflix binge. Start by putting the beets on to roast, then add the nuts to the oven for the last 5 minutes. In the meantime you can quickly whip up the dressing.
This recipe is gluten friendly as are all The Canadian Birch Company Birch products and vegan if you omit the chevre cheese or substitute it with your favorite vegan cheese. 
Birch Roasted Beets

Roasted Beets are a great make ahead the day before

Preheat: 375 F

Serves: 6

Prep Time: 30 minutes

8 - 10 Small Beets

1 Tbsp Canadian Birch Company Gold Birch Syrup

1 Tbsp of olive oil

1/2 Tsp Cinnamon

Salt and Pepper

Wash and scrub beets well, cut in quarters no need for peeling, toss with oil and Gold Birch Syrup, cinnamon, salt and pepper to taste. Roast until soft when inserted with a fork, about 30 minutes. If you are using nuts in this recipe, add the walnuts to the oven for the last 5 minutes. (see instructions below).

When cooled, the tough skin will peel off easily with your fingers. Discard. Toss peeled beets with the pan drippings. Set aside in the refrigerator. 

Birch Roasted Nuts

You can alternatively use pecans or almonds too.
Preheat: 375 F 

1/2 cup coarsely chopped nuts

1 Tbsp. of Canadian Birch Company Gold Birch Syrup

1/4 Tsp of Cinnamon 

Toss nuts with Birch Syrup, and cinnamon. Place on a cookie sheet lined with parchment paper and roast for 5-7 min at 350 F. Cool & break apart

Birch Vinaigrette

This is a light and refreshing salad dressing or marinade for grilling veggies.

1 Tbsp. Canadian Birch Company Gold Birch Syrup

1 Tbsp. Apple Cider Vinegar

Salt

Combine oil, Birch Syrup, apple cider vinegar, and a pinch salt. Whisk together until well mixed. Place in an airtight container and refrigerate until ready for use. 

Colorful Salad

4 cups of salad greens

2 mini cucumbers, chopped

10 grape tomatoes, halved

2/3 cup carrot straws

1 cup red cabbage, copped

4 oz chevre cheese

Plate your favorite greens, layer on the veggies, Birch Roasted Beets, Chèvre cheese, Birch Roasted Walnuts. Drizzle with Birch Vinaigrette just before serving.
 Bon Appetit!